Guest Blog: Look to the 'Lady with the Lamp' as we respond to COVID-19 worldwide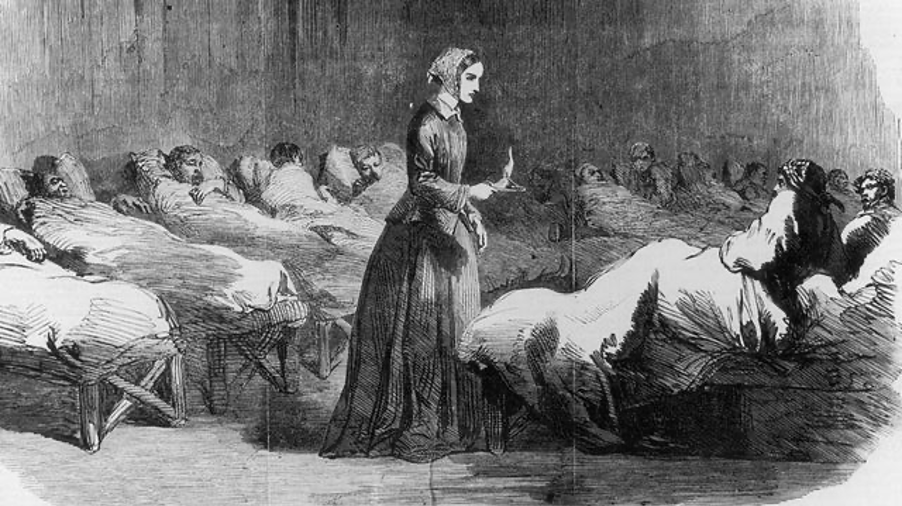 This Guest Blog comes to you from another Mark Poznansky: in this case Mark C Poznansky, Clinician Scientist working with COVID-19 at the Massachusetts General Hospital and Harvard Medical School: 
 Born on May 12, 200 years ago in Italy, Florence Nightingale is known for revolutionizing the nursing profession and introducing hygienic practices that, even now, save countless lives. At this moment in history, world leaders who emulate her transformative governance style are achieving noteworthy outcomes for their respective countries during the COVID-19 crisis. Today, it is many women heads of state who rise to Nightingale's level of laudable leadership. 
In 1854, Florence Nightingale led a team of more than 30 volunteer nurses to care for thousands of British soldiers who were wounded during the Crimean War. The squalor that she found upon arrival at the military hospital in Constantinople ranged from soldiers lying in their own feces to rodents scurrying across their limbs. The death toll from infection dwarfed that of mortality from battle wounds. Nightingale acted swiftly and decisively to alter the conditions, drastically reducing the death rate. Later, her practices became standard for military as well as civilian hospitals and paved the way for modern-day nursing care.
Given the test of capability, decision-making and strategic thinking that the COVID-19 pandemic has imposed on leaders across the globe, it would serve us well, on Nightingale's birthday, to break down the factors that contributed to her success as a public health pioneer.
Florence Nightingale was a clear and decisive leader. Well versed in the natural and social sciences, she applied statistics and rigorous, quantitative research to achieve desired healthcare ends. Nightingale would have agreed that information and data are our best weapons against COVID-19. German Chancellor Angela Merkel, also a scientist, stands out as a leader who has mobilized data to drive decision-making. With one case of COVID-19 diagnosed in mid-January and a clear understanding of how the virus would spread exponentially, Germany ramped up manufacturing and distribution of test kits, swabs and other materials to allow for widespread testing for the virus itself, and subsequent antibody tests. Today, Merkel is carefully and deliberately using that testing to drive decisions in step-by-step return to work for the health of the economy and the country.
Florence Nightingale was an empathic leader. Dubbed "The Lady with the Lamp," she ministered soldiers and officers at night, caring for everyone regardless of their title, rank or income. Sadly, the current pandemic is amplifying existing inequities in both health and wealth; plans and policies established by our leadership should seek to narrow, not widen, that growing gap. We know that COVID-19 is spreading most dramatically through densely populated areas that often represent the poorest neighborhoods and house people who have pre-existing health disparities, enhancing their risks to contract and develop complications from COVID-19. Our leaders should guarantee access and resources to the communities that need them the most.
COVID-19 testing and treatment must be made available to everyone regardless of race or income. With that in mind, Prime Minister Katrin Jakobsdottir is providing free testing to everyone in Iceland. Another prime minister, Jacinda Ardern of New Zealand, holds live evening Facebook chats, often in a sweatshirt after putting her nearly 2-year-old to bed, and has issued a pay cut for herself and Cabinet members in solidarity with New Zealanders currently unemployed due to the pandemic.
Florence Nightingale was a pragmatic leader. She worked with multidisciplinary teams involving generals, doctors, nurses, engineers and construction workers. While she was able to clearly articulate her vision, she also knew when to defer to others for their technical or strategic expertise. Merkel has invoked a similar approach, convening a panel of scientists, physicians, statisticians, psychologists and ethicists to guide both medical and economic decisions. First Minister of Scotland Nicola Sturgeon has issued a detailed plan that she shared with all Scottish residents. The strategy uses testing, tracing and isolation as well as innovative approaches to physical distancing as a guide to return to work. She is clear that she will follow data and the advice of experts to assess whether easing restrictions is causing unexpected and undue rise in COVID-19 cases and death.
Florence Nightingale was a visionary leader. She preferred disease prevention over medical treatment. She was an outspoken advocate for education, mental health, housing access and clean air and water. Our leaders must exercise vision and thoughtful, strategic planning for recovery that is in concert with both prevention and treatment. Viral testing should have been adopted early and often in the United States; it wasn't. Now, follow-up with monitoring of those who were infected, contact tracing, and determining who has established immunity should be rolled out nationwide. The Defense Production Act should be applied in ways that allow for extensive manufacturing as well as fair, equal distribution of all materials for widespread testing throughout the United States.
Ultimately, vaccine and treatment development will be the most valuable solutions to a virus that could continue to wreak havoc for years to come. That, too, requires swift, intelligent leadership in combination with genuine kindness and practicality. It would do our leaders well to harness the transformative style and principles showcased by Florence Nightingale — as well as Merkel, Ardern, Jakobsdottir and Sturgeon — to safely inform public health decisions, policies and procedures. 
. . . 
Jacqueline A. Hart, MD, is director of the Bassuk Center on Homeless and Vulnerable Children, Families, and Youth. Deirdre Houtmeyers, RN, MS, CARN, LADC1, is an independent consultant and formerly served as CEO and president of St. Mary's Center for Women and Children in Boston.
Mark C. Poznansky, MD, Ph.D., is director of the Vaccine and Immunotherapy Center at Massachusetts General Hospital; he is an infectious diseases physician and associate professor of medicine at Harvard Medical School.
Image courtesy of Getty Images